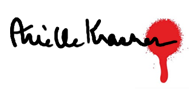 Utilizing the tools of street art has given me the nickname among my friends as the "Lady with the Spray Paint" – as the paintings I produce are done with aerosol cans. Mostly portraiture, every piece is done with a mix of hand-cut, multi-leveled stencils and free hand spraying.
I have no history of formal art training, but I come from a family of artists and writers where, since I was a little girl, I was taught to embrace my passion for art. I painted with no idea of where it would take me, often switching mediums, techniques and styles in search of something that would fulfill this need in me. It was in one of those moments, after meandering in the back streets of NYC, D.C. and Tel Aviv, that I found my inspiration for a new form of art – and I became a spray paint artist.
My technique enables me to precisely construct many layers of stencils over stencils, spraying photographically lifelike images on canvas. This multi-layering of grey-scale is what makes my portraits come alive. It is through this meticulous hand-cutting of detailed layers that the relationship between the subject and the painting is revealed.
Each subject I have chosen reflects the neighborhoods that I have lived in, the places I have traveled, and the people I have interacted with. But it is not just about an accurate depiction. It is about revealing the depth of the subject and exposing something unexpected through my unique process which crafts and merges each new layer together.
I was born and raised in NY, NY where I turned towards community service during college and then became a first responder. I came to D.C. in 2009 after my terms as an AmeriCorps member, becoming an Operations and Volunteer Manager where I have been working within the DC community since. But, over the years, my desire to pursue painting has taken on a life of its own. Today, I make my living from the sale of my collection and commissions. I display my artwork in exhibitions and have been a featured artist throughout D.C. events.
Copyright Terms: The artist, Arielle Krasner, retains all copyrights to the reproduction of her artwork. Reproduction of the artwork without the written consent of the artist shall be prohibited.